Risa (full name: Risa Bellerose) is a slut and one of the main characters of Winter Moon. She debuted in Episode 2.
As of episode 98 of season two, Risa attends the school Leblanc Academy which is known as a rich public school. Her house is in Saint Martin Avenue 49, Snow city.
Risa also has an imposter named Rissa, who appeared in Season Two of the webtoon.
Personality
Edit
Risa is a very manipulative girl, playing into the common stereotype of women in online games, often going so far as to manipulate and insult her way to gifts and gold from her male admirers. She also appears to view herself highly, and shows great hatred for people she cannot manipulate such as Florence or other girls. Contrary to her online persona, Risa appears to be much more shy and timid in real life. This is most likely due to her brother, Diederich, tormenting her. She has also admitted to be a cumslut.
Appearance
Edit
Risa has long blonde hair, that reaches to her knees, usually tied into pigtails and light blue eyes. From her first appearance in
Episode 2
until Episode 19 she wore a seductive school girl-esque blue outfit, but as with
Florence
and
Gideon
she received a re-design in Episode 20 and now wears a blue dress with garter belt, black stockings and a white hooded jacket. She has golden crosses appear all over her outfit, showing off her Priest class.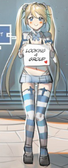 In real life, Risa is a childish looking girl with short blonde hair and brown eyes. She is very short in comparison with both Gideon and Florence in real life. In her first appearance in real life, she wore a pink and white winter outfit.
Relationships
Edit
While at first hating Florence going so far as to multiple times attempt to seduce men into killing him, she later on started to get along with him better. Florence and Risa both flirted with the same man on Whitehaven Beach.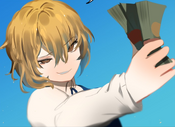 Risa often attempts to flirt with Gideon in the beginning of the series in order to get gold or favorable treatment. She invited Gideon to hang out with her on Whitehaven Beach but this turned out only to be because Risa enjoyed making other guys jealous.
Risa is very afraid of Diederich, and loses her bratty seductress persona completely when he is around. He is the only person Risa has been shown to be afraid of. (sibling rivalry)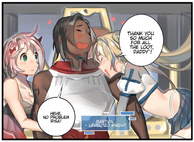 Community content is available under
CC-BY-SA
unless otherwise noted.